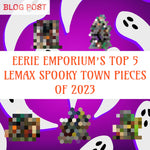 Eerie Emporium's Top 5 2023 Spooky Town Pieces
We want to start off by saying that 2023 is an incredible year and you can't go wrong with any of this year's Spooky Town new releases; spanning across numerous themes, there's sights and sounds, lighted buildings, table accents and figurines/accessories for every collector (all available for preorder here)! However, there are a few that The Eerie Emporium Staff believe are particularly noteworthy. After days of painstaking deliberation, and without further ado, below is our team's annual favorite new Spooky Town list!
Honorable Mention - 2023 Spooky Town Table Piece/Accent of the Year
Newly Deads #33613 just barely beats out Witch Vanlife #34066 and Rotten Candy Stand #33612 for Eerie Emporium's table piece/accent of the year, as we feel like it may be the most underrated piece of the entire 2023 collection. Understandably, collectors with limited space, themes or budget may opt for the historically more popular carnival or witch themed table accents with Rotten Candy Stand or Witch Vanlife, but we simply can't ignore the fact that vampires are back with a vengeance! We love the duo's sinister smiles, their outfits, the gothic hearse and even the winged horse. We would've loved to see the chauffeur with more of a Victorian plague doctor vibe than the current birdman aesthetic, but maybe a little black paint can do the trick?
Honorable Mention - 2023 Spooky Town Accessory of the Year
Creatively creepy and wickedly whimsical, what's not to love? Haunted Tree Trunks #34072 is Eerie Emporium's pick for Spooky Town accessory of the year!
Honorable Mention - 2023 Spooky Town Figurine of the Year
Two of our favorite things are werewolves & takeout, so Wolfie Eats Out #32200  was an easy pick for figurine of the year!
Number 5 - 2023 Spooky Town Piece of the Year
Coming in at number five on our list this year is Phantom View Apartments #35011. With half a dozen ghosts, numerous gargoyles and skull piles, this piece is full of blood-curdling details! The art deco style of the building reminds us of both The Tower of Terror and American Horror Story: Hotel, while the funky architectural features at the top of the piece give us major Ghostbuster vibes. Varied yellow, blue, purple and green lighting, a disturbing elevator drop mechanism and spinning supernatural elements make this one of the more complex Spooky Town pieces in recent memory... all at a price point of $119.99, which seems like a ghoulishly good deal! 
Number 4 - 2023 Spooky Town Piece of the Year
If this wasn't such a strong year for Lemax, Samantha's Supernatural #35005 may very well have topped our list! Collectors like us, have been asking for more vintage Halloween inspired pieces for years which is why last years blow molds (Cat and Pumpkin #24939 & Happy Halloween Ghosts #24934) and this years Samantha's Supernatural bring a Spooktacular smile to our faces. Growing up in the 90s, setting up nightmarish yard décor was a huge part of our yearly Halloween tradition and we love the attention to detail Lemax gave this piece. There's ghouls, ghosts, witches, jack o' lanterns, tombstones, mummies and even bigfoot - Samantha's really does sell decorations for Halloween-lovers on any end of the spooky spectrum. We can see this piece in a small business/downtown section, on trick or treat lane or even on the outskirts of your village as a roadside attraction. With green, orange, yellow and purple lighting, plus no animation that can fail down the line, we see this as a serious seller this year, especially at a very reasonable $59.99. 
Number 3 - 2023 Spooky Town Piece of the Year
With half our team supporting a move up to runner-up and the other half pushing for it to be off the list altogether, Haunted Aquarium #35001 was easily the most hotly debated and controversial piece in the 2023 lineup. The major point of contention here was the fishbone entrance on the left side of the building. And while the Eerie Emporium team members that relish this piece agree that the fishbone entrance was an interesting design choice (and think that side of the building would've looked better as either a) another fish/fish-monster architectural structure b) a blueish wave-like feature or c) just a normal door), they believe that this pieces attention to detail and remarkable versatility far outweigh it's flaws. A menacing ticket booth monster, spine-chilling sea captain, terrifying tentacles and foreboding faces built into brick illustrate that this piece was meticulously mapped out. Additionally, this lighted building fits into as many distinct themes as it has alarming attributes; we can see it in a bizarre business district, at a creepy carnival (especially if you're lucky enough to own the long Retired Octo-O-Squeeze #84800 or Octo-Swing #14379), next to your garden/green house themed buildings (Garden of Eaten Nursery #95445, Retired Spooktaculer Boo-Quets #55914 or Retired Hemlocks Nursery) or on a shore/dock area of your sea themed Halloween village. Overall, we think Lemax priced their pieces outstandingly well this year and at $66.99, Haunted Aquarium is significantly more affordable/accessible than its Department 56 counterpart, Monsters of the Deep. 
Runner-up - 2023 Spooky Town Piece of the Year
The House of Shadows #35004 is our 2023 runner-up for piece of the year, just edging out both Samantha's Supernatural and Haunted Aquarium! You can never go wrong with a classic haunted house and we think Lemax killed it with this one. The scooter and ball act as evil omens, elucidating the fate of children that dared to enter this plagued property. Meanwhile, disturbing silhouettes in the windows depict the tortured souls that remain trapped inside. Wonderfully withered and perfectly painted in a chilling black, grey and maroon color scheme, this piece will be highly sought after for years to come. $54.99 is another grave robbing good price, but we wish they would've raised it a few bucks and added a soundtrack commensurate with it's overall unpleasantness.  
Eerie Emporium's 2023 Spooky Town Piece of the Year
We're howling at the moon over this werewolf themed restaurant! Shockingly, in a unanimous decision, The Full Moon Diner #35012 has been named Eerie Emporium's 2023 Spooky Town crown jewel! With mid century modern vibes throughout, this sights & sounds diner is right out of a 1950s horror movie. Roadside Americana meets classic monsters in this marvelous mash-up. It'd be disingenuous of us not to mention that we're slightly nervous about the no-less-than five major animated elements of this piece. However, on the surface this is not only the best piece of 2023, but potentially a top 15-20 piece of all time! And relative to comparable sights and sounds pieces from recent years, a modest retail price of $119.99 may be the silver bullet to collectors hoping to pass on this masterpiece.