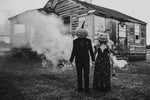 Welcome to Your New Home for All Things Eerie
Eerie Emporium
Hello and welcome to Eerie Emporium, we've been dying to greet you! We are a small team of Halloween enthusiasts based in Nashville, TN that decided to turn our passion for all things spooky & creepy into a startup family owned business. The pumpkin-headed humans in the photo above are the co-founders of Eerie Emporium, their names are Casey (on the left) and Lys (on the right). Their hope is that you revel in their shared joy of all things weird, odd and macabre. Eerie Emporium was created with the vision of delivering a curated collection of goods that can blur the line between October 31st and every other day of the year - we believe that everyday should be Halloween! 


Currently, our shop sells mostly Lemax Spooky Town Halloween Village items, but we have plans to add tons of additional creepy commodities and killer goods in the near future! These plans include lifestyle goods, apparel and all kinds of other Halloween and Horror collectibles. Be sure to follow us on social media and subscribe to our newsletter for notifications about new Spooktacular items, frighteningly good deals and bone-chillingly great giveaways!
Meet Your Ghouls
Casey & Lys
Casey and Lys' love of all things eerie stems from growing up on Scooby-Doo, Goosebumps, Are You Afraid of The Dark?, Hitchcock, 80s Horror, Stephen King & even the occasional family vacation to Salem, Massachusetts, Anoka, Minnesota & The Lizzie Borden house. They plan to use this knowledge gained over decades of Halloween & Horror fandom to curate a wicked collection of kickass stuff for you, our superb and sinister shoppers. 
In their free time, they spend their time hanging out with their three rescue animals named Nova (a 6 year old Pit bull/Great Dane mix), Oslo the cat (a 5 year old Siamese/Himalayan mix) & Ghost (a 3 year old Lab/Belgian Malinois mix). Additionally, they love spending time in nature hiking & camping, gardening, garage saling & antiquing, reading, watching horror movies and visiting local breweries.