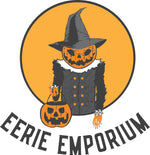 Eerie Emporium Halloween Update
Good morning Mischievous Monsters,
With only a few days to go before Halloween, we wanted to provide you with an update about Eerie Emporium, including 1) our final Lemax Spooky Town shipment of the year, 2) retired Lemax Spooky Town items and 3) the vintage Halloween portion of our site.
Our final (and largest) Lemax Spooky Town shipment of the year was originally scheduled to arrive the first week of October. Unfortunately, due to shipping/cargo delays and Lemax bandwidth issues, that shipment is now scheduled to arrive the second week of November… over a full month past its original delivery date. While we were hoping to receive our largest shipment of the year prior to Halloween, we understand that businesses of all sizes are facing similar issues and are excited to have full shelves in advance of the holidays (other holidays excluding the best holiday – Halloween). We will be listing the Lemax Spooky Town items from this batch on our site for pre-order next week, with expected arrival from Lemax to us in Nashville the following week!! This batch includes restock of dozens of sold-out pieces as well as many new to our site Spooky Town SKUs.
We have spent the last month traversing terrifying territories looking for wonderfully wicked vintage die cuts, blow molds and other Spooktacular spoils and have not come up empty-handed. We will continue to travel to every corner of earth (and beyond) find you the best malevolent merchandise, so check this section of our site soon, as we plan to list multiple creepy commodities of the vintage variety daily! Additionally, we plan to begin listing retired/used Lemax Spooky Town items from our own personal collection after Halloween. We apologize for the delay regarding listing some of these items, as a small team we just haven't had the time or bandwidth to undertake this project until now. Reminder, we are a Halloween-year-round company so whether it's October 31st or March 31st, know that we're here for all your eerie essentials!
A Final Note
Whether you placed an order this morning or place an order from Eerie Emporium years from now, our commitment to superb customer service, detailed packaging and a great all-around experience will remain steadfast. Again, we can't thank you enough for your support and look forward to serving you for years to come! Please message us at support@eerieemporium.com with questions, concerns or if you just want to chat to fellow collectors!