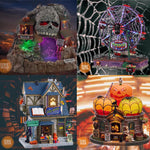 Tirck or Treat? Out of Stock Update!
What do you want? More 2021 inventory! When do you want it?
NOW

! Your demand is our command! 


As you may have noticed, pre-orders for the 2021 pieces have been going freaky fast. We did not predict, nor expect, the truly remarkable amount of pre-orders we have received, because of this...

We have placed a third (yes, you heard us, THIRD) reorder with Lemax for your favorite 2021 Spooky Towns - Web of Terror, The Antique Book Store, The Bad Apple Shop and more. These are scheduled to arrive 8/25-9/5 from Lemax and will be labeled on our website as BATCH 3 Aug/Sept Arrival. 

Now the boring, yet neccessary details you've all been waiting for - SHIPPING. To make this as simple as possible, we are only allowing preorders for the 3rd batch on the NEW 2021 pieces; Batch 3 also includes restock of non-2021 items that have sold out on our site, as well as over 30 additional pieces not currently listed.

We are NOT accepting preorders for anything from Batch 3 EXCEPT the 2021 pieces. Please note that the delivery of these pieces will most likely arrive in early September - we at Eerie Emporium believe in full transparency and communication with our customers, so if you decide to preorder any Batch 3 New 2021 pieces, please make sure you're okay with the later delivery date. We have extended our free gift promo once again, to accommodate those in our last round of preorders. 
FULL SHIPPING BREAKDOWN:
BATCH 1
*Pre-Order July Arrival - Scheduled to arrive from Lemax in Mid-to-late-July*
BATCH 2 
*Pre-Order August Arrival - Theses pieces are estimated to arrive from Lemax 8/5-8/20*
BATCH 3
*Pre-Order BATCH 3 Aug/Sept Arrival - These pieces are estimated to arrive from Lemax 8/25-9/5*
As many of you may have noticed throughout our site, on our social media posts and everywhere else, for orders that contain both July and August (batch 2) pieces - we will NOT be waiting until everything arrives to ship your order; instead we will ship it to you as we receive it, meaning that you will receive your pieces as quickly as possible, regardless of how much extra shipping we have to pay! 
*****Moving forward, for orders that contain both Batch 2 and Batch 3 August pieces, we will be combining them into one shipment. This means that if you order pieces from all three delivery batches on our site, you will receive two shipments: one for your July pieces and then one in late August/early September for all the Batch 2 & Batch 3 pieces.*****
For those in the back! - We will ship ALL JULY pieces once we receive them from our friends at Lemax, and then combine and ship ALL AUGUST (Batch 2 & 3) items in a follow up package.